Description
TENGA FLIP HOLE SILVER Onanism cup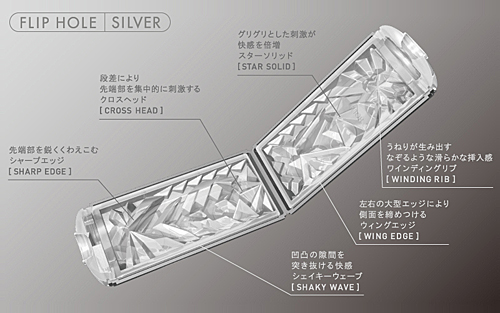 The feeling of tight adhesion, on top of the bumpy feeling on sharp edges! 
A sense of strong adhesion is achieved by the bumpy structure when you are "sandwiched" closely.
New pleasure of the sharp edges with high tension.
The tender and chewy stimulus covered with the edges from many directions with multiple form. 
First in the world to use FLIP structure, making a complex configuration in the cup possible. Since it can be opened for washing, cleaning is now very easy. A lot of new features like ball shape structure and vacuum pump. It can be used for 50 times when used carefully. It comes with 3 different lubricating lotion formula. This is a device that allows you to control your own pleasure.
Customer Reviews
{{'product.product_review.no_review' | translate}}